HUAWEI SELFIE STICKS
DRIVE-BY-WIRE RANGE PLUG IN-AND-USE
Supporting Huawei EMUI 2.3+, IOS 5.0+ and Android 4.4+Extremely convenient and ready for shot at any time! Huawei Selfie sticks, an integrated (wired) picture-taking facilitator; requiring nobattery charging; one button for Selfie; easy to be installed; just directly plug the wire in the phone audio-in to control the mobile phone photographing: extremely convenient and ready for shot at any time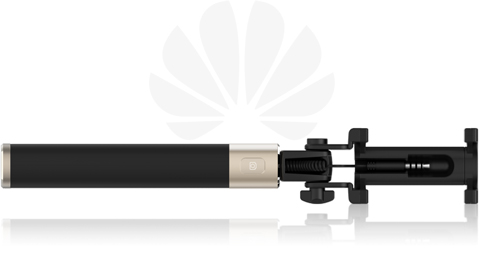 Huawei Selfie sticks, an integrated (wired) picture-taking facilitator; requiring nobattery charging; one button for Selfie; easy to be installed; just directly plug the wire in the phone audio-in to control the mobile phone photographing: extremely convenient and ready for shot at any time.
The stick makes picture taking possible with its 3.5 MM audio wire and requires no bluetooth connection. The Android System/Apple Systemmultipurposewiredselfie device is suitable for Huawei EMUI2.3+, IOS5.0+ and other Android 4.4+ cellphones; compatible with the iOS and Android device in picture taking and ON/OFF.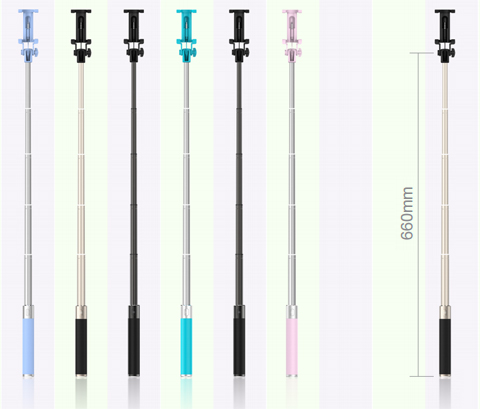 Huawei
EMUI2.3+

Apple
IOS5.0+

See the following phones for Android range:

Mi

Redmi Note 1
Redmi Note 3
Redmi 1S
Redmi 2S
Redmi 2
Redmi 2A
Mi 2
Mi 3
Mi 4

Samsung

Samsung Galaxy S4/5/6
Samsung A5/7
Samsung GT-N7100
Samsung E7000

Coolpad

Z5 Compact (Hong Kong Version)
Xperia C4 (Hong Kong Version)

VIVO

vivo X6
vivo X5
vivo Y28L
vivo 17T
vivo S6T
vivo Y11
vivo Y33
vivo Y13L
vivo X5S

HTC

HTC One X9 (Hong Kong Version)
HTC One A9 (Hong Kong Version)

LG

Motorola

OPPO

OPPO R831S
OPPO A33
OPPO Y27
OPPO R3
OPPO R7/R7S
OPPO R8207
OPPO 3007

Other brands

Gionee GN9005/F103
Letv MEEG308
Letv HM1S
Lenovo A7600
Meizu Note2/4
ZET G720T
Dazen F1/F2
DOOV L1C/L3
Google Nexus 6P
Blackberry Priv(Hong Kong version)
Appearance design

Appearance
Drive-by-wire operation/non-visual plugs/ aluminium pull rods
Product size (when folded)
41.8x34.1x179mm
Product size (when unfolded)
41.8x34.1x660mm
Cellphone support (stretchclip distance)
56-85mm
Weight
118.4g
Packaging size
44x34.5x182mm

Main performance

Picture-taking times
>10000
Headsetimpedanceinput requirement
2.7V 2.2K/ohm No button press:2,200 mv; volume+ (picture taking) 236 mv
Material requirement
UV- resistance
Button types
soft-touch buttons
Working temperature
-20?~60?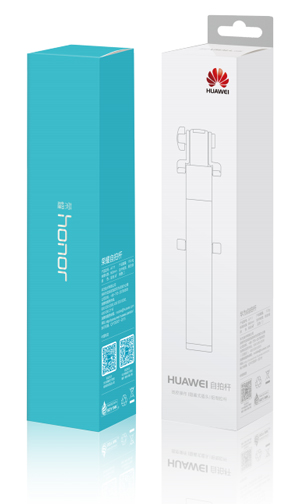 How to use selfie stick
1. Open packing box of Honor selfie stick.Take this product out safely and check if it is in good condition.
2. Rotate phone support 90 degrees in arrow direction, hold two ends, and pull the extendable stick segment by segment.
3.Take headphone cable plug out of the support groove, insert it into headphone jack, then phone photo mode will be enabled. Press camera key of the selfie stick to take photos.
4.Bend phone support to some extent, then hold tail of the extendable stick. Make the stick head pop up to hard object, and withdraw the extendable stick segment by segment.
5. Place headphone cable back to phone support groove, then rotate the support 90 degrees to withdraw. The selfie stick is folded.
Additional Information
Brand
Huawei
Specification

Model

2451989

Type

Selfie stick

Color

Pink

Compatibility

Compatible Phone Manufacturer

Universal

Feature

Features

Compact and portable.Weighing just 128 g and collapsible to 18 cm, the Honor Selfie Stick fits easily into your bag or pocket.

Extendable design.Aluminum rod can be extended from 18 cm to 66 cm to suit a variety of different shooting scenarios.

270-degree adjustable head.One-piece design with 270-degree adjustable head allows you to shoot from different angles.

Easy to use.Press the button on the handle to take a photo. The selfie stick is powered by your phone's headset for convenient on-the-go use.

Crafted to perfection.CNC-crafted anodized aluminum rod protects against rust and discoloration.
Soft hypoallergenic rubber handle for comfortable grip.

Compact and portable.Weighing just 128 g and collapsible to 18 cm, the Honor Selfie Stick fits easily into your bag or pocket.
You may also be interested in the following product(s)
Starting at:

Tk. 2,700.00