Thermaltake H550 Tempered Glass ARGB Edition Mid Tower Chassis
The H550 Tempered Glass ARGB Edition mid-tower chassis is a new design from the H Series, a series that is famous for its eye-catching RGB light strip incorporated at the front. Its dedicated diamond cut angles around the 2mm aluminum front panel makes the H550 TG ARGB unique and incomparable. The preinstalled front ARGB light strip and rear 120mm ARGB fan can be controlled via motherboard synchronization software or the RGB switch on the top I/O port. Other outstanding features include a 4mm tempered glass panel, a riser GPU support bracket, and removable magnetic filters for overall exceptional pc performance which is the ideal pc case for both gamers and enthusiasts.
The image is for reference only.
One 120mm 5V addressable ARGB rear fan is included.

 
One Built-in 120mm 5V ARGB Fan
The H550 TG ARGB comes with an ARGB light strip at the front and one preinstalled 120mm 5V ARGB fan at the rear which can be controlled by using a simple interface built into the top I/O panel that cycles through 7 different lighting modes and a range of different color options or your motherboard software. Furthermore, the fan features 9 addressable LEDs, hydraulic bearings, and 16.8 million-color illumination to guarantee high airflow and awesome lighting modes.
The image is for reference only.
One 120mm 5V addressable ARGB rear fan is included.

 
Sync with Motherboard RGB Software
Designed to synchronize with ASUS Aura Sync, GIGABYTE RGB Fusion, MSI Mystic Light Sync and ASRock Polychrome. It supports motherboards that have a 5V addressable RGB header, allowing you to control the lights directly from the above-mentioned software without installing any extra lighting software or controllers. For more details, please visit ASUS, GIGABYTE, MSI and ASRock official websites.
Aura Addressable Header

Digital Pin Header

JRAINBOW Header

Addressable RGB LED Header

Addressable RGB LED Header
Tempered Glass Panels
H550 TG ARGB comes with one 4mm tempered glass panel on the left side, thicker and more scratch resistant when compared to standard acrylic. On top of this, the enlarged window design enables you to display and admire all your components in their full RGB glory.
Vertical GPU Mount
Specially designed with a dual GPU placement option, the H550 TG ARGB has the support for vertical graphic card layouts with dual PCI-E slot designs. The PCI-e riser cable is optional. Plus, the included riser GPU support bracket not only can prevent the graphic card from sagging but also helps to reduce the weight on the motherboard. Thermaltake PCI-e X16 Riser Cable (Optional) – Supports a wide range of GPU solutions.
The image is for reference only.
One 120mm 5V addressable ARGB rear fan is included.

 
Excellent Dust Filtration
A handy magnetic fan filter on the top simply attaches for easy dust filtration and particulate protection. At the base of the chassis, additional fan filters provide excellent protection against both dirt and dust.
Opportunities For High-End Expansion
H550 TG ARGB has good expandability. It can support a CPU cooler with a maximum height of 165mm, two-way VGA placement of up to 300mm in length for horizontal and 45mm in width for vertical option, a power supply with a length of up to 200 (without HDD Rack) and RAM height limitation up to 40mm (with radiator series). Optimized for excellent cooling capability with one 120mm ARGB rear fan preinstalled, the H550 TG ARGB can also house up to three 120mm fans at the front, two 140mm fans on the top, and one 140mm at the rear.
Dimensions
Fan Capacity
Radiator Capacity
CPU Cooler
Max height 165 mm
Motherboard
ATX, Micro ATX, Mini ITX
PSU
Max length 200 mm
(without HDD Rack)
RAM
Max height 40 mm
(with radiator series)
Handy I/O Ports
One 3.0 USB, two 2.0 USB, and the RGB button on top-front panel to grant direct access when needed.
Radiator Support List
Radiator Compatibility List
|   | 120mm | 240mm | 360mm | 140mm | 280mm | 420mm |
| --- | --- | --- | --- | --- | --- | --- |
| Front | ● | ● | ● | ● | ● | - |
| Top | ● | ● | - | - | - | - |
| Rear | ● | - | - | - | - | - |
All-in-One Compatibility List
(Water 3.0 and Floe series)
|   | Performer | Pro | 240 Series | 360 Series | 140 Series | 280 Series |
| --- | --- | --- | --- | --- | --- | --- |
| Front | ● | ● | ● | ● | ● | ● |
| Top | ● | ● | ● | - | - | - |
| Rear | ● | ● | - | - | - | - |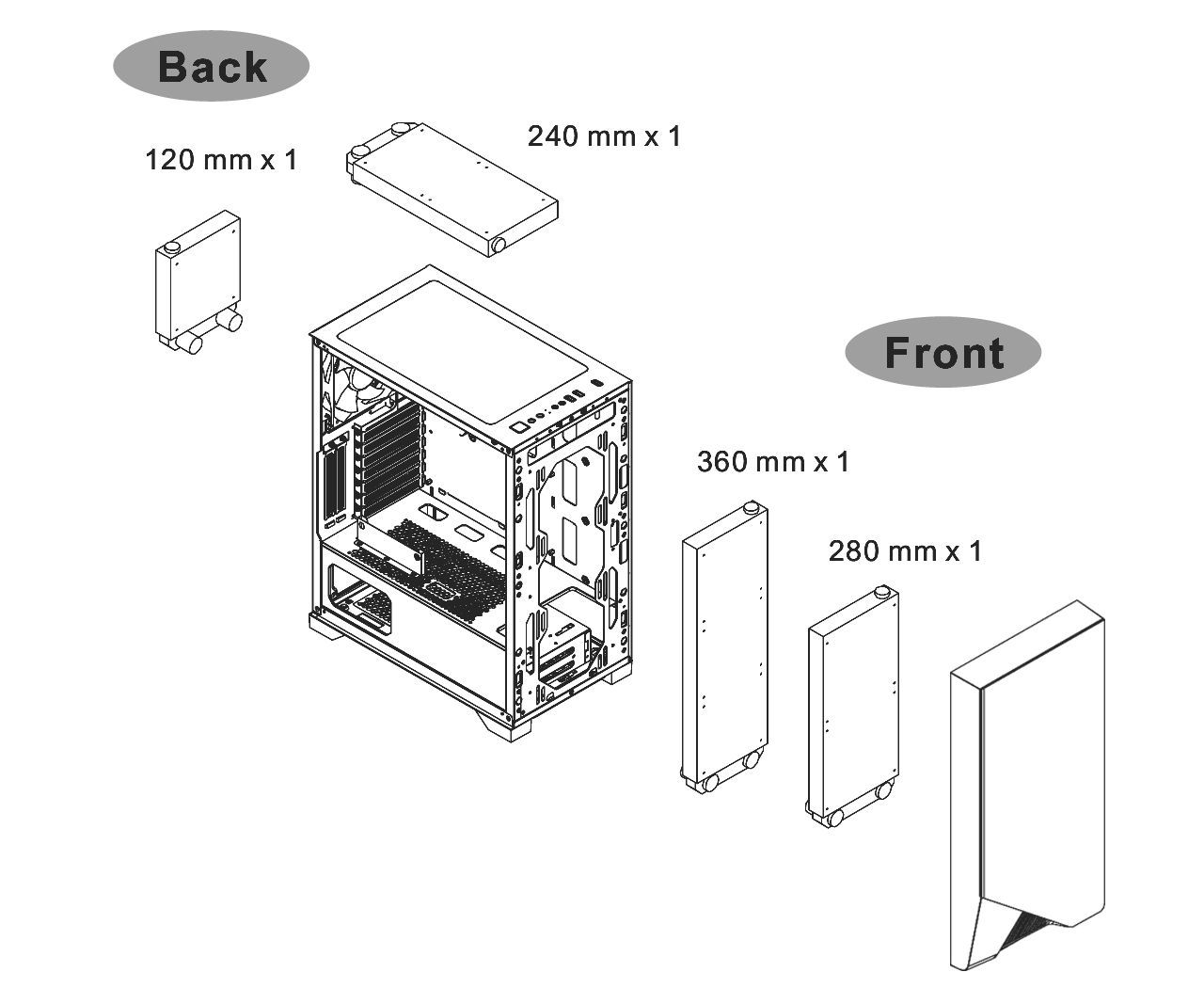 Fan Support List
Fan Compatibility List
|   | 120mm | 140mm | 200mm |
| --- | --- | --- | --- |
| Front | 3 | 2 | 2 |
| Top | 2 | 2 | - |
| Rear | 1 | - | - |
Thermaltake Compatible Fan
|   | 120mm | 140mm | 200mm |
| --- | --- | --- | --- |
| PURE FAN Series | ● | ● | - |
| Riing FAN Series | ● | ● | - |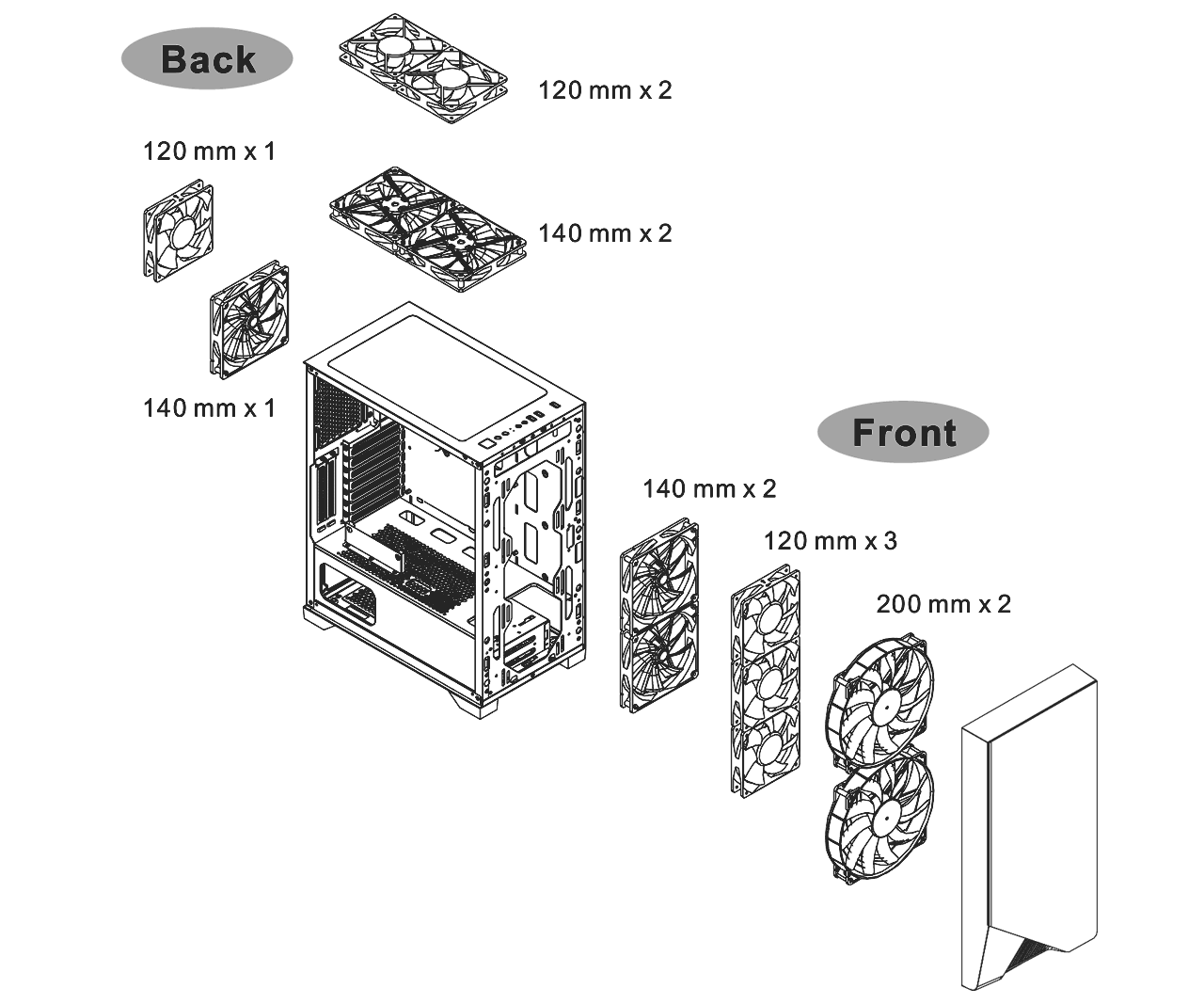 Additional Information
Brand
Thermaltake
Specification

P/N
CA-1P4-00M1WN-00
SERIES
H Series
MODEL
H550 TG ARGB
CASE TYPE
Middle tower
DIMENSION (H X W X D)
441 x 225 x 472 mm
(17.36 x 8.85 x 18.58 inch)

NET WEIGHT
7.65 kg / 16.87 lb
SIDE PANEL
4mm Tempered Glass x1
COLOR
Exterior & Interior : Black
MATERIAL
SPCC
COOLING SYSTEM
Rear (exhaust) :
1 x 120 x 120 x 25mm Addressable RGB fan
(1000rpm, 27.2 dBA)

DRIVE BAYS
-ACCESSIBLE
-HIDDEN

2 x 3.5" or 2.5" (HDD Rack); 2 x 2.5" (HDD Bracket)
EXPANSION SLOTS
7+2
MOTHERBOARDS
6.7" x 6.7" (Mini ITX), 9.6" x 9.6" (Micro ATX), 12" x 9.6" (ATX)
I/O PORT
USB 3.0 x 1, USB 2.0 x 2, HD Audio x 1, RGB Switch x 1
PSU
Standard PS2 PSU (optional)
FAN SUPPORT
Front:
3 x 120mm, 2 x 140mm
Top:
2 x 120mm, 2 x 140mm
Rear:
1 x 120mm, 1 x 140mm

RADIATOR SUPPORT
Front: 1 x 280mm, 1 x 360mm
Top: 1 x 240mm
Rear: 1 x 120mm

CLEARANCE
CPU cooler height limitation: 165mm
PSU length limitation: 160mm(With HDD Rack)
200mm(Without HDD Rack)
VGA length limitation: 300mm
VGA width limitation(Vertically): 45mm
RAM height limitation: 40mm(With radiator series)

Warranty
1 Year