The Best SSD Upgrade Kit.
Introducing our new JetDrive SSD upgrade kits for the MacBook Air and MacBook Pro with Retina display. Complete with tools, instructions, and a slick aluminum USB 3.0 enclosure to reuse your original SSD, Transcend's JetDrive SSD upgrade kits allow you to both increase your storage space and boost the performance of your Mac®. Transcend's JetDrive SSDs are also backed by an industry-leading 5-year warranty.
Running out of storage space?
Stop shuffling around your files and fretting about storage space. Transcend's JetDrive SSD upgrade kits offer up to 960GB of storage capacity. Upgrading your Mac to a JetDrive SSD ensures you'll have plenty of space for all your favorite music, videos, and photos.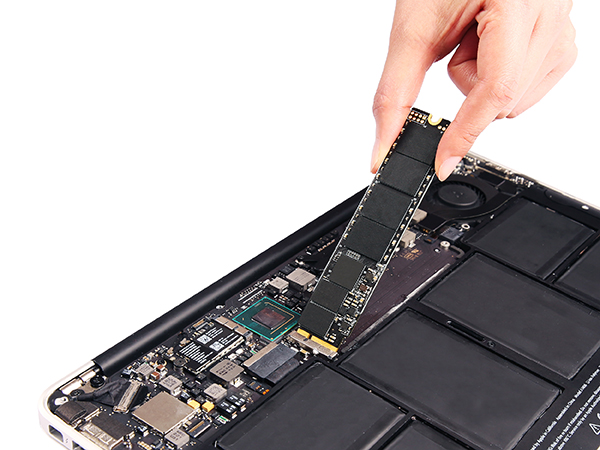 Supercharge your Mac.
With file transfer performance* that far exceeds stock SSDs, JetDrive SSDs provide both speed and stability. Whether you're browsing the internet, gaming, or running multiple applications simultaneously, JetDrive SSDs deliver the performance you need.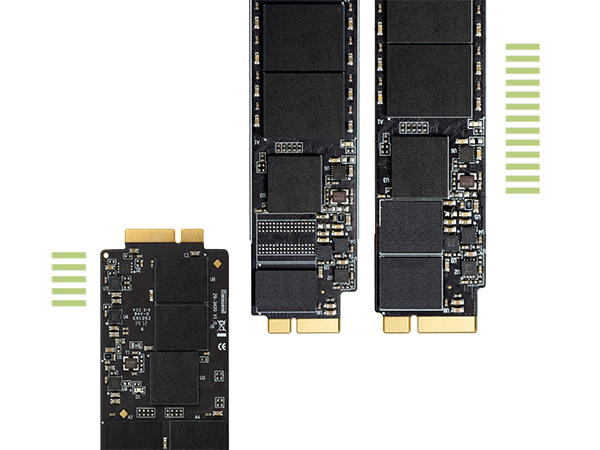 One deal. Double benefits.
The JetDrive comes with an additional external enclosure. Its  sturdy aluminum case perfectly protects your original SSD from any external damage. Thanks to its speedy SuperSpeed USB 3.0 interface, waiting for transfers to complete becomes a thing of the past. Pop your original SSD in the enclosure, and straightaway you've got a sleek, new external storage device.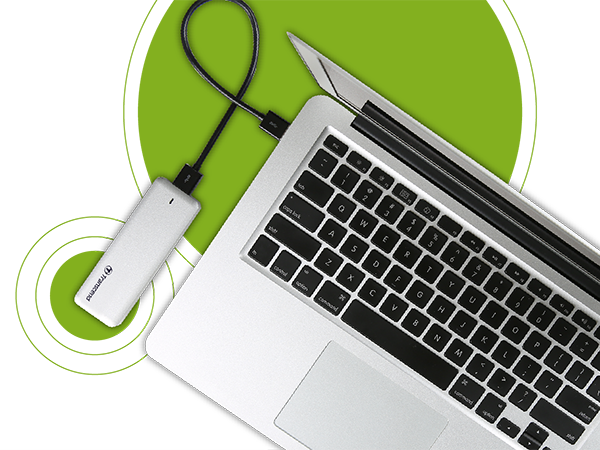 Sleek, Solid, Pocketable.
Its clean, simple lines and solid aluminum construction make the included enclosure a perfect companion to your Mac. With a thickness of 1.08 cm and a weight of 60g, transporting your data becomes a breeze.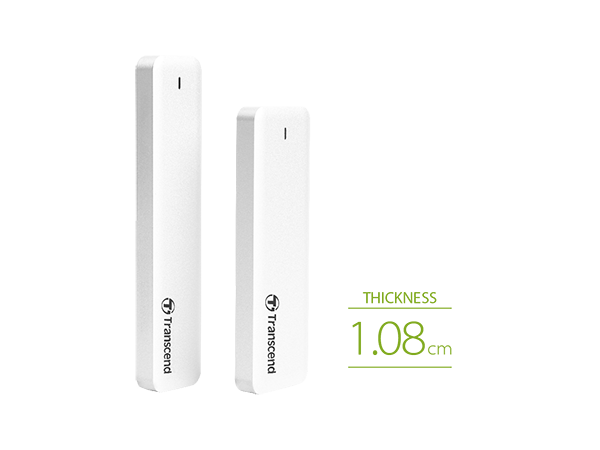 Take control with JetDrive Toolbox.
Exclusively developed by Transcend for JetDrive SSDs, JetDrive Toolbox monitoring software leverages S.M.A.R.T. technology to detect possible drive failures before they occur. Additionally, the Health Indicator function can monitor the wear-out level of your SSDs.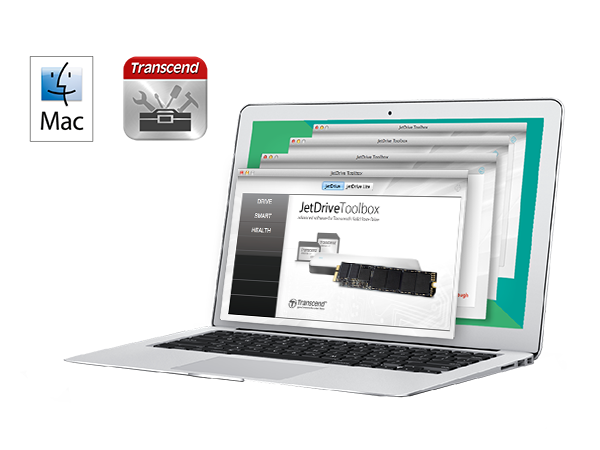 It's a piece of cake.
Learn how to install a JetDrive SSD in your Mac. Get started now!
Everything you need.
The package includes all the tools you need:
MacBook-compliant SSD
Enclosure Case with USB 3.0 to SATA Adapter
Screwdrivers (T5 & P5)
Screws for Enclosure Case x3
USB Cable
Rubber Feet
Travel Pouch
Quick Installation Guide & Warranty Card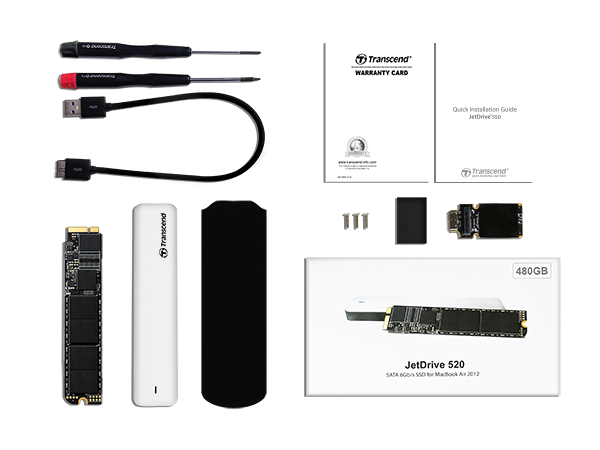 Match it up.
Find the right model for your Mac below.
Model
Mac Identifier
JetDrive Model
MacBook Air 11" & 13"
Late 2010
Mid 2011
MacBook Air 3,1 / 3,2 / 4,1 / 4,2
*480/960GB JDM500 does not support 3,1
JetDrive 500
(240GB / 480GB / 960GB)
MacBook Air 11" & 13"
Mid 2012
MacBook Air 5,1 / 5,2
JetDrive 520
(240GB / 480GB / 960GB)
MacBook Pro (Retina®) 13"
Late 2012
Early 2013
MacBook Pro 10,2
JetDrive 720
(240GB / 480GB / 960GB)
MacBook Pro (Retina®) 15"
Mid 2012
Early 2013
MacBook Pro 10,1
JetDrive 725
(240GB / 480GB / 960GB)
MacBook Pro
Late 2008 - Mid 2012
MacBook Pro 5,1 / 5,2 / 5,3 / 5,5 / 6,1 / 6,2 / 7,1 / 8,1 / 8,2 / 8,3 / 9,1 / 9,2
JetDrive 420
(120GB / 240GB / 480GB / 960GB)
MacBook
Late 2008 - Mid 2010
MacBook 4,1 / 5,1 / 5,2 / 6,1 / 7,1
Mac mini
Mid 2010 - Late 2012
Mac mini 4,1 / 5,1 / 5,2 / 6,1 / 6,2
The JetDrive series is specific for certain Mac computer models. Please identify your Mac model here.
To quickly find out which of our products suit your Mac, please download
480GB / 960GB JetDrive 500 does not support 11-inch MacBook Air Late 2010 due to a mechanical limitation.
MacBook Air, MacBook Pro, Retina, Mac, Time Machine, and Aperture are trademarks of Apple Inc.
Additional Information
Brand
Transcend
Capacity
240GB, 480GB, 960GB
System Requirements

SSD
Interface
SATA III 6Gb/s
Capacity
240GB/480GB/960GB
Flash Type
Synchronous MLC
Max Performance
(Varies by capacity)
Max Seq. Read: 570MB/s
Max Seq. Write: 460MB/s
Operating Temperature
0°C (32°F) to 70°C (158°F)
Warranty
5 years (The 5 years warranty does not apply when JetDrive Toolbox's wear-out indicator shows 0% within 5 years)
Enclosure Case
External Dimension
110.9mm x 37.2mm x 10.8mm
Weight
65g
Operating Temperature
0°C (32°F) to 70°C (158°F)
LED Indicator
Power, Data Transfer, USB 2.0/3.0
Connection Bandwidth
USB 3.0: Up to 5Gb/s
USB 2.0: Up to 480Mb/s
Power Supply
5V DC from USB 2.0/3.0 port